Emma Cusdin
(pronouns : she/her/hers)
Emma Cusdin is a speaker, facilitator and champion for trans and non-binary rights. With over 20 years' experience in human resources, Emma is an award-winning role model in the business sector for LGBT+ people.
She is currently People Director at Standard & Poor Global and a Fellow of the Chartered Institute of Personnel & Development.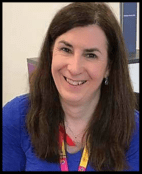 She is an openly trans woman, having transitioned in 2009 and uses her passion to raise awareness of trans and non-binary issues through speaking events, and working with the private sector to enable trans and non-binary inclusion.
An outspoken advocate, Emma features regularly in the press, including in The Financial Times, The Huffington Post and HR Zone.
She has received a number of accolades, including:
Emma sits on the T-Squad, which is the trans and non-binary advisory group for the start-up LGBT+ Insurance company, Emerald Life.    In 2019, she joined the board at myGwork, a global networking hub and job board for LGBT+ professionals.
Emma co-founded Trans*formation, the UK's largest professional networking organisation for trans and non-binary individuals, their friends and colleagues.   She left Trans*formation to join Global Butterflies as Director in 2018.
In 2019, Emma was delighted to receive the Prime Minister's Office Points Of Light recognition for her tireless work in trans-inclusion.
The Global Diversity List recognised Emma for her trans & nonbinary inclusion work in November 20.
She was delighted to be appointed Trustee at the Human Dignity Trust in September 2020.
Emma is a trained executive coach and has recently qualified as a Associate Certified Coach with the International Coach Fedaration.