Rachel Reese
(pronouns : she/her/hers)
Rachel Reese is an experienced and engaging (and often humorous) facilitator and consultant who specialises in helping companies create a trans and non-binary inclusive workplace.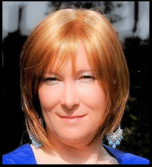 She supports organisations through a number of ways, from coaching senior level decision makers, to delivering general training sessions, to supporting HR teams.  She can adapt her material to suit the needs of your organisation.   In 2019, Rachel wrote (alongside Emma Cusdin) the Lloyds of London Trans & Non-binary Guide which has hit the City of London with great acclaim. 
Rachel has spoken in front of audiences all over the UK, US and Canada and has worked with many large and small businesses in regard to their trans and non-binary initiatives.
Having started her career in avionics as a software engineer, Rachel later moved into the legal sector after retraining as a lawyer.  She passed The Law Society Solicitors Final Exams in the 90s.  During this time she was diagnosed with Gender Dysphoria, and later while she was working at The College of Law, she transitioned her gender expression from male to female; this at a time when it was difficult to be out and trans in the City.   She worked in a number of senior operational roles, eventually rising up to Production Director.    
In 2015, Rachel founded Global Butterflies, a trans and non-binary inclusion training company that comprises of trans only staff.    Global Butterflies donates a percentage of its profits to LGBT+ causes.   
Rachel gives up much of her free time as a trans and non-binary inclusion advocate to many orgainations which include: 
Trustee for GiveOut

, a charity which aims to support the global LGBT+ movement, funding activists and their organisations around the world to promote and protect the rights of LGBT+ people.

Former Vice-chair of the The Law Society Solicitors Division a

nd currently works alongside organisations such as The Solicitors Regulation Authority and Aspiring Solicitors

on their trans and non-binary campaigns and initiatives.  

Judging the 

People In Law Awards

 each year.

Mentor to Aspiring Solicitors LGBT+ candidates

Judge for the OUTvertising Awards in regard to LGBT+ content
Rachel addressed the Pride In London Gala Dinner in regard to trans and non-binary rights in the UK and the Pride In London breakfast for CMS (Pride In London sponsor).
In 2020, Rachel was honoured to be added to the InsideOut Leaderboard as a senior leader who openly speaks about mental health in the workplace based on her own experiances. 
D&I Leaders listed Rachel as one of their Inspirational D&I Leaders in 2021.